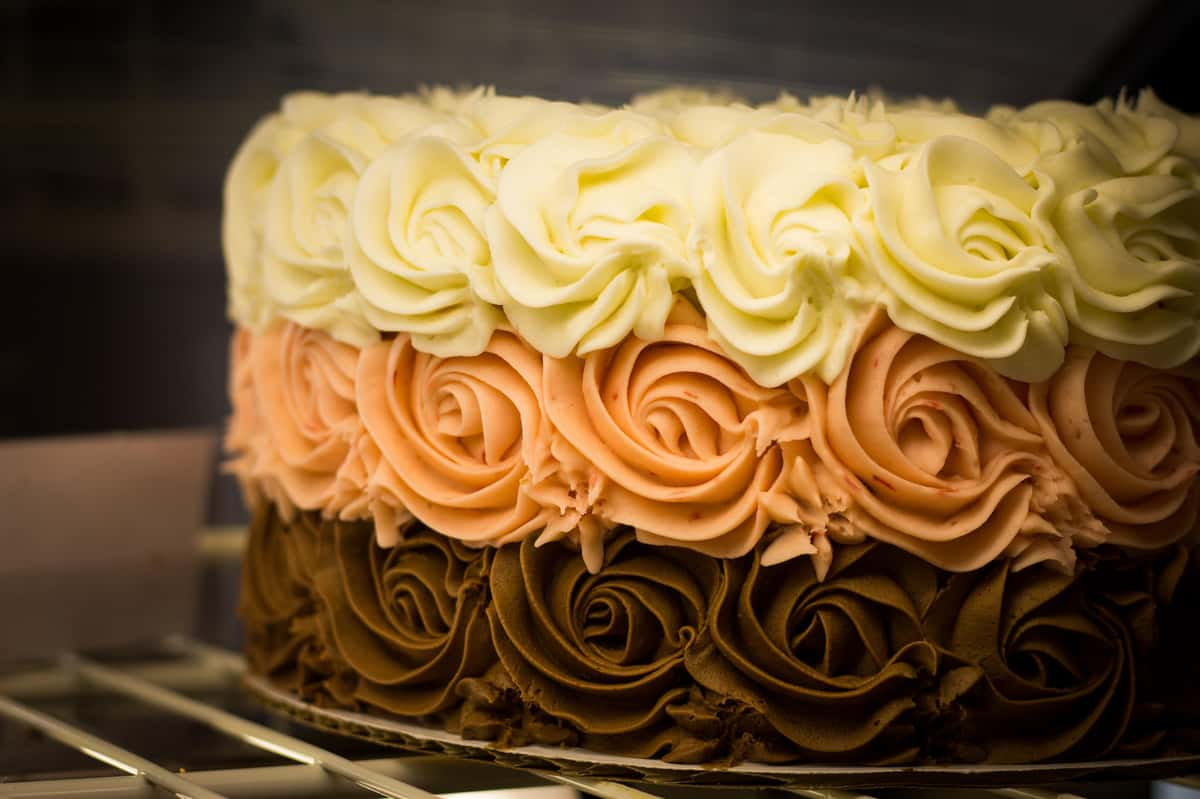 Specialty Cakes
"You Dream It, We'll Make It!"
Know what you want? Go to our Online Ordering Section & place your order. You can put any special instructions in the notes (ex: Happy Birthday John with a golf theme)
If you need an over the top specialty cake, contact our cake decorators by filling out the form below:
Cakes
Have Your Cake...
Get it Gluten Free ($5 extra), or Vegan ($10 extra)!
Blue Ridge Hummingbird
A moist cinnamon-flavored cake is full of ripe bananas and sweet pineapples. Covered in cream cheese frosting and sprinkled with chopped nuts... $40
Butter Gap Vanilla
Lots of fresh butter and real organic vanilla make this cake anything but ordinary... $40
Pink Beds Strawberry
Layers of fresh strawberry cake frosted with fresh strawberry buttercream. Only available when strawberries are in season... $40
Cascade Falls Carrot
Moist carrot-studded spice cake, frosted with our signature cream cheese frosting and sprinkled with chopped nuts... $40
Rich Mountain Fudge
Tastes like Grandma's chocolate cake. A chocolatey, rich fudge cake frosted with our creamy chocolate buttercream... $40
Devil's Courthouse Red Velvet
Moist cocoa-infused red cake, slathered in cream cheese frosting... $40
Schenck German Chocolate
Fluffy chocolate cake frosted with our own homemade cooked coconut pecan frosting... $50
Rocky Mountain Chocolate Kahlua
An intensely chocolate cake brushed with Kahlua and frosted with a cooked fudge frosting... $55
And Love It Too!.
..
If you can dream it, we can design it!
We specialize in custom cakes for birthdays, showers, anniversaries and other special occasions.
CUSTOM CAKES
*Get it Gluten Free ($5 extra) or Vegan ($10 extra)!!*
1/4 Sheet Cake
15 to 24 servings, 9 x 13 inches... $45
1/2 Sheet Cake
35 to 45 servings, 13 x 18 inches... $75
Full Sheet Cake
85 to 99 servings, 18 x 26 inches... $135
10-inch 2 Layer Round
20 to 25 servings... $55
12-inch 2 Layer Round
35 to 40 servings... $75